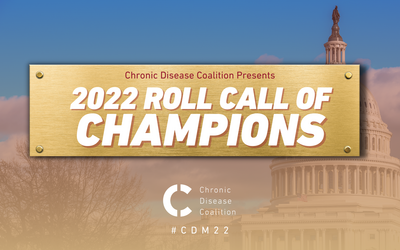 Every day, the Chronic Disease Coalition advocates for legislation that improves health outcomes for chronic disease patients and their families by making treatment more affordable and accessible. While we work hard to support proposals that expand access and lower costs, the legwork is often done by champions within the statehouse walls.
For every bill supported by patients, there is at least one, and often several, legislators who sponsored the legislation, advised us on strategy, and advocated on behalf of patients.
As part of Chronic Disease Month, we are recognizing this year's legislative champions. Republicans and Democrats alike sponsored or co-sponsored legislation to help patients get needed health care services. We are grateful for their leadership, their hard work, and their care for our families.
The following champions are just the tip of the spear when it comes to the fight for chronic rights. Our sincere gratitude goes to all legislators who sponsored or supported patient-centered legislation in their states.
Banning Copay Accumulator Policies
Many manufacturers make medications more affordable by offering copay assistance, but insurance companies can take the revenue from copay assistance, and still require patients to pay the full deductibles and out-of-pocket maximums. That means the insurer gets paid twice and the patients don't get the support they are entitled to. These legislators took a stand against this unfortunate practice, helping to pass laws that ensure that copay assistance actually helps patients, and not insurance companies.
Delaware Sen. Spiros Mantzavinos (D-7)
Florida Sen. Tom Wright (R-14)
Minnesota Rep. Rena Moran (D-65), and Rep. Glenn Gruenhagen (R-18)
New York Sen. Gustavo Rivera (D-33)
Washington Sen. David Frockt (D-46)
Protecting Living Organ Donors from Discrimination
Every year, 6,000 Americans become living donors of kidneys and other organs to save the lives of family members, friends, colleagues, and even complete strangers. Yet another person is added to the transplant waitlist every 10 minutes, starting a long waiting game for them and every one who cares about them. Discriminatory insurance policies often keep healthy people from making life-saving donations because they are afraid of losing their own insurance coverage. These legislators stood up for living organ donors in their states.
California Asm. Ash Kalra (D-27)
Florida Rep. Chris Latvala (R-67) and Rep. Webster Barnaby (R-27)
Louisiana Rep. John Illg Jr. (R-78)
New York Asm. Richard Gottfried (D-75)
Virginia Sen. Adam Ebbin (D-30)
Expanding Medigap Access
Medigap plans (or Medicare supplemental insurance policies) cover some of the medication and treatment costs that traditional Medicare does not pay. Chronic disease patients and their families need this lifesaving coverage. Healthcare costs can break families, and Medigap coverage is an essential tool in managing those costs and helping people get the treatment they need to live full lives. These legislators understand how critical Medigap is for their constituents with chronic disease.
Kentucky Rep. Kim Moser (R-64)
Louisiana Rep. Richard Nelson (R-89)
Maryland Del. Kirill Reznik (D-39)
Nebraska Sen. Steve Lathrop (12)
Rhode Island Rep. Brian Patrick Kennedy (D-38)
Reforming Harmful Step Therapy Practices
Insurance companies often force patients to use cheaper treatments that have not been prescribed by a doctor in order to cut costs, with dangerous implications. The Chronic Disease Coalition opposes policies that allow insurance companies to make treatment decisions for a patient, rather than a doctor. These legislators do too.
California Asm. Joaquin Arambula (D-31) and Asm. Scott Weiner (D-11)
Colorado Rep. Iman Jodeh (D-41), Rep. Emily Sirota (D-9), Sen. Faith Winter (D-24), and Sen. Janet Buckner (D-28)
Florida Sen. Gayle Harrell (R-25)
Massachusetts Rep. Jeffrey Roy (D-10) and Rep. Marjorie C. Decker (D-25)
These champions represent a small segment of the hundreds of state legislators that give us something to fight for each legislative session.
Thank you also to New Jersey Rep. Roy Freiman (D-16) for your work on reforming pharmacy benefit management, to Louisiana Rep. Rodney Lyons (D-87) for your sponsorship of a bill to ensure chronic patients are prepared for natural disasters, and Illinois Rep. La Shawn K. Ford (D-8) and Sen. Ram Villivalam (D-8) for your advocacy around ensuring stable housing for patients and their families.
Follow us on social media (@chronicrights) to publicly thank these champions and, if we're missing your legislator, let us know. We'd love to acknowledge all the amazing work that has been accomplished so far this year.