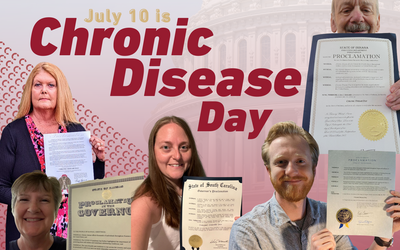 The month of July – Chronic Disease Month – is our annual opportunity to acknowledge the progress made by and for chronic disease patients around the country. We work tirelessly year-round to elevate the patient perspective in legislative discussions, advocate for patient-centered policies, and improve health outcomes for the millions of Americans living with a chronic disease.
Chronic Disease Day on July 10, or 7/10, represents the fact that 7 out of 10 deaths in America are due to a chronic disease—that means nearly 1.7 million Americans lose their lives to chronic disease every year

A helpful tool in spreading awareness is an official proclamation from state leaders. This year, CDC staff, ambassadors and board members were able to secure official proclamations from the governors of their states including – Washington Gov. Jay Inslee, Oregon Gov. Kate Brown, Wisconsin Gov. Tony Evers, Indiana Gov. Eric Holcomb, South Carolina Gov. Henry McMaster, Maryland Gov. Larry Hogan, Virginia Gov. Glenn Youngkin and Kansas Gov. Laura Kelly.

We hope you'll join us in thanking the governors on social media, and joining the chorus of patient voices that hereby proclaim the month of July Chronic Disease Month and July 10 as Chronic Disease Day nationwide.
WHEREAS: Chronic disease affects millions throughout the United States; and
WHEREAS: The COVID-19 pandemic has further highlighted the importance of learning about and protecting those with hidden and sometimes debilitating conditions; and
WHEREAS: The cost of health care continues to rise across the country and accessible affordable care must be prioritized in order to protect our most vulnerable community members; and
WHEREAS: Widespread awareness, increased community engagement and ongoing advocacy is critical to improving patients' quality of life and access to care; and
WHEREAS: Chronic Disease Day is supported by the Chronic Disease Coalition, a nonprofit organization dedicated to raising awareness, protecting the rights of chronic disease patients and advocating for patient-first policies throughout the United States.
NOW,
THEREFORE: We, the Chronic Disease Coalition, a leading nationwide nonprofit dedicated to defending and expanding the rights of chronic disease patients, hereby proclaim July 10, 2022 to be
Chronic Disease Day
in the United States and encourage all Americans to join in this observance.