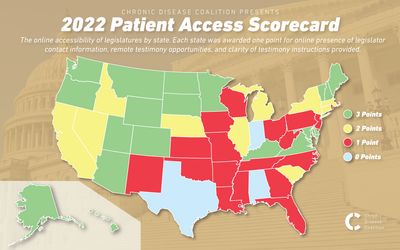 In March of 2020, the world of public policy – much like the world at large – changed forever.
Some might call it a silver lining of the pandemic. With many Legislatures adding virtual participation options, access to the public process became easier for many Americans.
As part of Chronic Disease Month, the Coalition has created the 2022 Patient Access Scorecard to look at some of the most, and least, accessible state legislatures in the country.
While not a scientific study by any means, all 50 states were assigned points based on 1) how accessible legislators' direct contact information is, 2) availability of virtual testimony options, and 3) instructions about how to view or participate in virtual proceedings.
The pandemic forced all of us – legislators, lobbyists, committee staff, advocates – to learn what it's like to navigate the public process while managing a chronic disease.
When you have a chronic disease, oftentimes accompanied by a compromised immune system or physical limitations, you can't just take an afternoon off work to go testify at the state capitol. You can't easily hop on a bus, or a car, or in the back of a rideshare to attend a lobby day. The pandemic put those restrictions on all of us.
Some states adapted better than others. As an advocacy organization engaged in statehouses across the country, our staff and our patient advocates know this very well.
Moving forward, we challenge every state legislature to provide opportunities to sign up online to testify, to testify virtually, to provide digital guidance on how to livestream committee proceedings and floor votes, to provide legislators' email addresses online, and generally break down those barriers to democracy that chronic disease patients are all too familiar with.