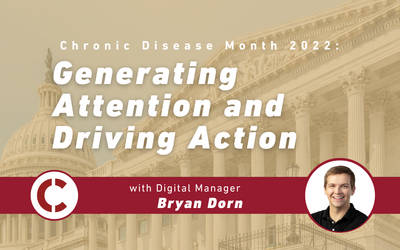 As we wrap up a busy July at the Coalition, it's important to reflect on some of the big wins from Chronic Disease Month, thank our champions, and consider what this means for our advocacy through the rest of summer.
While the general intent of any awareness month is to generate attention, we set out to drive action. With the help of patients, partners and people across the country, we brought our message to key audiences in a variety of ways.
Here are some of the big wins you helped us achieve for CDM 22:
You sent 173 letters to legislators promoting Chronic Disease Month as well as virtual participation in legislatures with our patient access scorecard.
Our staff and ambassadors secured a Chronic Disease Day proclamation from governors in 8 states including Gov. Jay Inslee in Washington, Gov. Kate Brown in Oregon, Gov. Tony Evers in Wisconsin, Gov. Eric Holcomb in Indiana, Gov. Henry McMaster in South Carolina , Gov. Larry Hogan in Maryland, Gov. Glenn Youngkin in Virginia and Gov. Laura Kelly in Kansas.
We hosted five amazing speakers, including three lawmakers, during a lively Chronic University.
We welcomed two new ambassadors, Anna Ball and Mary Glossop. Both bring a fresh, new perspective to advocacy and will be invaluable to the coalition's efforts.
Advocates, patients and caregivers shared their "Why" by creating their very own custom 'I Advocate Because…' graphic.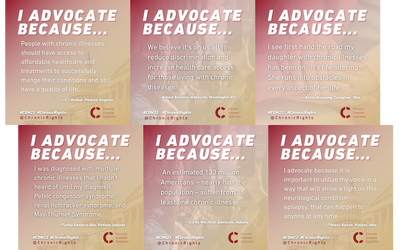 With this momentum, it is more important than ever before that we continue to use our voices to empower patient rights across the country and inform policymakers about the real challenges facing our health care system.

This means using late summer and fall to set up meetings, reach out to newly elected lawmakers, and introducing ourselves and our ambassadors as resources. The Coalition is happy to help facilitate this advocacy, provide materials and even join meetings with legislators.
Reach out today to get involved and thank you again for your support in July— and all year long!