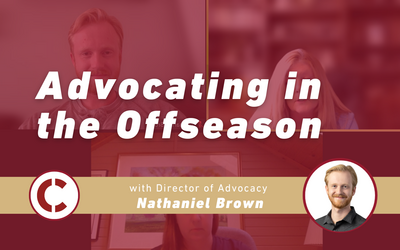 Now that most legislatures have adjourned for the year, our patient advocates are busy connecting with their local state representatives, senators and their congressional delegations. Are you planning on a meeting with your legislator this summer?
This is the perfect time to ask for 15 minutes of their time to simply introduce yourself, share your story, and let them know you're here to help them pass good policy when the time comes. Our stories, names, and faces help them go to bat for our priorities next session.
No tough asks. No complex policy analysis. No prep work needed. No sweat.
Legislators are (typically) in public service for one reason: they want to serve the public. They felt called to represent you and your family in your Legislature. They have good ideas, and they know how to get those good ideas passed into law.
But they will be the first to admit that that they can't do it without us. It's up to their constituents to inform and guide them toward better public policy and turn them into advocates within the governing body.
Summertime – when most politicians are home campaigning or recharging after legislative sessions – is the perfect time to get to know your elected officials. Let them know you live in their district, that you vote in every election (right?!), and you care deeply about patient-centered policy. That's all.
When they are away from the capital, and there's no specific bill they're weighing the pros and cons for, the pressure is off. This is our time to start building connections. You don't need to come up with a convincing pitch to get legislation passed. You don't need to do any homework. You just need to show up and say hello.
If you need help getting started, the Chronic Disease Coalition can make an introduction for you. Just get in touch with me at nathaniel@chronicdiseasecoalition.org with your zip code. I'll find your legislator and make the connection—I can even attend with you.
Taking advantage of this annual downtime is critical to ensuring effective advocacy in the coming year. Don't let your legislators be strangers.