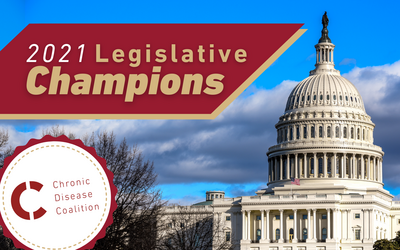 In state capitols across the nation, the Chronic Disease Coalition advocates for policies that support patients and their families. We believe that chronic disease patients deserve equal access to affordable health care, and every day, state lawmakers make decisions that impact our access to lifesaving and life-improving medical treatment.
The CDC works across the country with other patients-rights advocacy organizations to support legislation that supports families, but we could not do this work without our legislative partners. For every bill supported by patients, there is at least one, and often several, legislators who sponsored the legislation, advised us on strategy, and advocated on behalf of patients.
As part of Chronic Disease Month, we are recognizing this year's legislative champions. Republicans and Democrats alike, all of them sponsored or co-sponsored legislation to help patients get needed health care services. We are grateful for their sponsorship, their hard work, and their care for our families.
Organized by our major issue areas and then by state, this year's champions are:
Copay Accumulators


Connecticut
Sen. Saud Anwar
Rep. Michael A. Winkler
Rep. Jillian Gilchrest
Sen. Martin M. Looney
Florida
Sen. Jason Brodeur
Sen. Shevrin Jones
Sen. Gary Farmer
Kentucky
Sen. Ralph Alvarado
Rep. Kimberly Moser
Louisiana
Sen. Jimmy Harris
Maryland
Del. Pat Young
Sen. Joanne Benson
New Mexico
Rep. Alonzo Baldonado
Rep. Kelly Fajardo
Sen. Daniel Ivey-Soto
New York
Sen. Gustavo Rivera
Asm. Richard Gottfried
North Carolina
Sen. Jim Perry
Sen. Danny Earl Britt
Sen. Todd Johnson
Oregon
Sen. Sara Gelser
Sen. Tim Knopp
Pennsylvania
Rep. Barbara Gleim
Sen. Judith Ward
Chronic Kidney Task Force
Colorado
Rep. Mary Bradfield
Rep. Brianna Titone
Sen. Janet Buckner
Sen. Dennis Hisey
Nevada
Sen. Pat Spearman
Oklahoma
Rep. Chris Sneed
Rep. Randy Randleman
Oregon
Rep. Raquel Moore-Green
Rep. Andrea Salinas
Living Donor Protections


Ohio
Rep. Erica Crawley
Rep. Jon Cross
Pennsylvania
Rep. Tarah Toohil


Texas
Rep. Andrew Murr
Rep. Brad Buckley
Rep. Ryan Guillen
Sen. Borris Miles
Washington
Sen. Karen Keiser
Step Therapy


Arizona
Sen. Nancy Barto
California
Asm. Joaquin Arambula
Connecticut
Sen. Martin Looney
Florida
Sen. Gayle Harrell


New Jersey
Rep. Ronald Dancer
Rep. Herbert Conaway
Rep. Anthony Verrelli
Oregon
Rep. Susan McLain
Rep. Rachel Prusak
Sen. Bill Hansell
Rare Disease Advisory Councils


California
Sen. Susan Eggman
Florida
Sen. Dennis Baxley


New Jersey
Sen. Vin Gopal
Sen. Thomas Kean
Rep. Ronald Dancer
Rep. Daniel Benson
Rep. Anthony Verrelli
To read more about some of our campaigns and get involved at the state and federal level, visit our Take Action page.
Want to increase your voice and step up your level of activism? Learn about our Ambassador program and apply today!