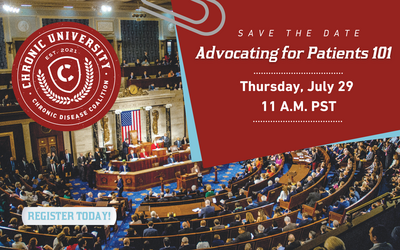 If your state government is making laws that affect you and your family, shouldn't you have a voice about it? But how do you get heard? But how do you get patient-forward legislation passed? What do lawmakers need to know? How can you help them make decisions that support chronically ill patients and families?

State and federal policy significantly impact our ability to work and care for our families. Our access to health care is essential for proper diagnosis and treatment, and well-regulated health insurance policies can keep us out of poverty.

The only way we can live up to our potential, contribute to society, and build the lives we want is to have state and federal policies that support us.
Join the Chronic Disease Coalition in answering these questions and so many more at our second Chronic University session, Advocating for Patients 101.
Thursday, July 29
11 a.m.- 12:30 p.m., Pacific Time

Panelists include:
- Curtis Warfield, Patient Advocate, Indiana
- Julia Boles, Grassroots and Advocacy Manager, National Psoriasis Foundation
- Rep. Marcus Riccelli, Spokane, Washington
Come with questions and your experience—we want this to be a robust conversation. We'll also introduce you to our new website, which has great information and advocacy tools that everyone can use.