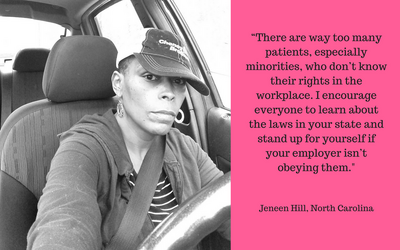 Raising three sons is difficult enough without the added challenge of battling multiple chronic conditions. Yet, Jeneen Hill manages to make it look easy.

In 2017, Hill was traveling back from a routine medical appointment to help manage her degenerative disc disease when she was struck by a major fever. At the time, Hill thought the fever was a result of degenerative disc disease, but it persisted, and so she returned to the doctor. Not long after, Hill was diagnosed with fibromyalgia and rheumatoid arthritis (RA).

"I had seen the Lyrica commercials on television, but I didn't realize how painful fibromyalgia and RA are," said Hill.

At the time Hill received her new diagnoses, she was working as a general manager in the culinary industry. Hill had worked for the company for several years and was surprised when her boss started to ask her about her health.

"She would say, 'You don't look well, are you working out?' She brought my health up constantly, waiting for me to disclose information," explained Hill. "Finally, I became sick of her asking and told her about my conditions. I was fired shortly after."

Hill pushed back and was rehired, but at a lower position that barely supported her family. Unfortunately, Hill was injured at work and took some time off to allow her back to heal. When she returned, she was again fired.

These experiences in the workplace inspired Hill to learn about her rights and the requirements placed on schools and businesses in regard to people with chronic health conditions.

"There are way too many patients, especially minorities, who don't know their rights in the workplace," said Hill. "I encourage everyone to learn about the laws in your state and stand up for yourself if your employer isn't obeying them."

Discrimination can occur in various forms and settings. Like Hill did, it is important learn about various laws protecting chronic disease patients in schools, in the workplace and in regard to your health plan. All patients have a right to health care and the opportunity to work or pursue education.