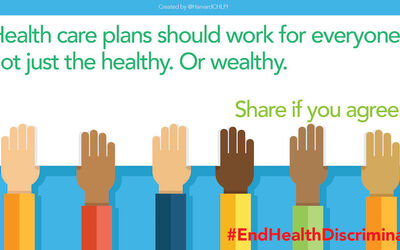 11.17.2016 A multi-state campaign to fight discrimination by insurance companies against people with certain health conditions aims to fight a range of tactics being used by insurers to avoid providing patients with the health care and treatment they need. The Center for Health Law and Policy Innovation at Harvard Law School and patient advocacy partners such as Nashville CARES and the AIDS Foundation of Chicago have filed complaints against health insurance companies like Blue Cross, Humana and Cigna with the U.S. Department of Health and Human Services' Office for Civil Rights, which is supposed to enforce the Affordable Care Act's anti-discrimination regulations in state health insurance Marketplaces. Robert Greenwald, CHLPI's faculty director and clinical professor of law at Harvard Law School, said the goal is to "shine a light on discrimination occurring under the cloak of supposedly neutral insurance plan benefit design." (Read more: "Landmark campaign could enforce health care rights for people with chronic conditions in seven states.") Meanwhile, as insurance carriers pay for less and less, advocacy is more important than ever before. In an article in Slate this week, Allison Bond, resident physician in internal medicine at Massachusetts General Hospital, wrote that, in the wake of the election, "doctors need to recommit to patient advocacy no matter what our politics are." What are the ways these insurance companies are working against the needs of patients? Following are five of the most blatant methods currently being used by insurance companies all over the country. 1. Step therapy (or "fail first" requirements)
Step therapy is the practice in which patients are forced to try cheaper treatments before they are allowed to try more expensive ones, even if their doctors are confident the less expensive treatments will not help them. It's one way insurance companies are trying to keep their profit margins high, even if it means creating obstacles for patients trying to get the health care their doctors have prescribed. For example, a woman with lupus suffered severe vision problems after an insurer made her try multiple medications before it would pay for one that her doctor originally prescribed. In another case, a lung cancer patient took a break from what had been a successful chemotherapy regimen, and when she needed to go back on it her insurer would not let her resume treatment until she tried other, cheaper drugs. Read more
here or here. 2. Bans on (or rejection of) payments from charitable premium assistance programs
In another move to avoid covering people with chronic or preexisting conditions, insurance companies have been rejecting patients who rely on financial aid programs offered by charities and nonprofits. They have even been putting language to that effect in their plans filed with state insurance divisions, and they have lobbied the federal government on the issue as well. As insurance companies pay for less and less and consumers foot ever-growing bills, many patients look to outside financial aid to help them afford their care. The Minnesota Commerce Department recently looked into this issue after Blue Cross of Minnesota attempted to reject third-party payments from nonprofits providing financial aid to patients struggling to pay their health plan costs. Daryl Lebahn of Blaine, Minnesota, was among those patients. He "wouldn't be alive today without dialysis treatments", and he relies on help from the nonprofit American Kidney Fund to pay his bills. Many others, with many other diseases, rely on similar programs to maintain their access to health care. "If it wasn't for their help, a lot of people – I don't know what we'd do," Lebahn told the
Star Tribune. You can read more about this issue here and here. 3. Bans or rejection of payments from charitable co-pay assistance programs
Similar to bans on charitable premium assistance, insurers are increasingly looking to move chronic disease patients off their plans by rejecting co-pay assistance programs. For example, Colin Smith, of Kuna, Idaho, has multiple myeloma, a type of cancer that forms in plasma cells and has required him to undergo two radiation treatments and a stem-cell transplant.
Blue Cross of Idaho made him wait weeks – and forced him to file official complaints – in order to get the medications he needs to stay alive and make the transplant worthwhile. 4. Drug price tiers recent national study took note of "adverse tiering," a practice where insurers put different types of drugs in different tiers, with each tier requiring patients to foot a different portion of the bill. The practice can put "substantial and potentially unexpected strain on people with chronic conditions," the study found. Enrollees on plans with adverse tiering had an average annual cost per drug of $4,892, compared to $1,615 for enrollees in other types of plans. Researchers at the Harvard T.H. Chan School of Public Health said that "insurers may be using benefit design to dissuade sicker people from choosing their plans. A recent analysis of insurance coverage for several other high-cost chronic conditions such as mental illness, cancer, diabetes, and rheumatoid arthritis showed similar evidence of adverse tiering." 5. Limited networks
Sometimes, health insurance companies will look at a certain chronic condition and target associated health care providers. For example, in Idaho, a woman named Debbie Birch was diagnosed with end-stage renal disease and needed kidney dialysis to survive. Her insurance company, Blue Cross of Idaho, refused to provide dialysis treatment in-network – despite the fact that Debbie and her husband and paid for their insurance. Read more by
clicking here. So much for the end of pre-existing conditions and new protections for patients in the health insurance arena. With all of these issues harming patients, what can you do to help? Please add your name to the cause and take a stand against discrimination. We'll keep you updated on ways you can help at the right time. Join the Chronic Disease Coalition by clicking here.