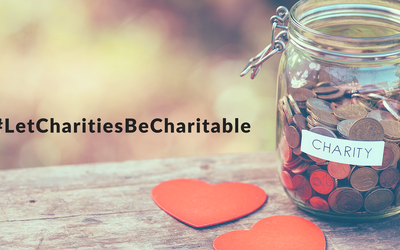 12.1.16 Many people with chronic illnesses, including MS, hemophilia, various types of cancer and end-stage renal disease, are anxiously awaiting an announcement from the Centers for Medicare and Medicaid Services (CMS) about whether they'll be able to keep using the charitable programs that help them to afford their health care. Lobbied by health insurance carriers looking to screen out more expensive patients, CMS has been considering new rules on whether patients can use nonprofit assistance programs to cover their insurance premiums or co-pays. CMS could issue a decision within the next week. Here are five articles showing what consumer and patient advocates are saying about the issue. 1. Copay Charities Offer Hope for Underinsured Clorinda Walley is the executive director of Good Days, one of the nation's largest providers of financial help to seriously ill Americans unable to afford their medication. She wrote in The Huffington Post:
After serving others for more than 40 years through his nonprofit, Leonard Rodgers was unexpectedly diagnosed with multiple myeloma, a rare disease. Although Leonard's therapy treatments ensured he could survive despite his illness, his healthcare costs amounted to more than the coverage available to him. For Marvese Sugar, a lifelong suffering of chronic fatigue, digestive issues and depression borne from untreated Hepatitis C would continue even though a cure was available. At $3,000 per month, her out of-pocket expenses were more than she could afford.
Although most chronic disease patients have valid insurance, it's estimated more than 30 percent still cannot afford their treatments. High premiums, prohibitive copays, and unexpected ancillary costs make it so that almost anyone can be caught financially unprepared when battling a chronic disease. Were it not for patient assistance charities, Leonard and Marvese would have been two more of the millions of Americans who are forced to go without medications that significantly better their lives. "We need a stopgap for people who find that the health insurance coverage available to them is not enough," Walley said. "When out-of-pocket expenses threaten your path to wellness or your family's livelihood, patient assistance programs are the last line of defense." Read more by clicking here. 2. Serious ACA wrinkle jeopardizes help for chronic patients Charlene Cowell of Raleigh, North Carolina, is executive director of Hemophilia of North Carolina. She recently wrote in The News & Observer that nonprofit premium assistance programs are absolutely critical: "As executive director of a nonprofit organization dedicated to improving the quality of life of persons affected by bleeding disorders, I work with patients every day who are in financial distress due to their medical expenses. I frequently refer patients to nonprofit premium assistance programs, and I can attest to the indispensable services they provide." "But federal guidance issued by the U.S. Centers for Medicare and Medicaid on acceptable third-party payments for patients covered under the ACA is making it possible for health insurers to reject patients who receive premium assistance from nonprofit charities," she said. "North Carolina is one of 38 states with health plans that are denying coverage to patients based on this CMS rule. Now-threatened premium assistance programs serve as lifelines to many patients, particularly those with debilitating and expensive medical conditions. The programs must be protected." Click here to read more. 3. Charitable assistance: the new 'pre-existing condition' LaVarne Burton of the American Kidney Fund, a nonprofit that runs the country's oldest and largest, and federally approved, charitable premium-assistance program for low-income people with end-stage renal disease, wrote in The Hill about the importance of not discriminating against one group of patients – those with end-stage renal disease – when it comes to access to health care. "It is vitally important that people with ESRD not be broadly excluded as a class from access to the insurance Marketplace," she said. "Third-party payments from charitable organizations are a lifeline for many low-income, chronically ill patients. They must depend on charities to help them pay many of their expenses, including health care premiums. Cutting off this assistance would be particularly callous and would harm some of our nation's most vulnerable people." You can read more here. 4. Saving the Affordable Care Act Doesn't Have to Cost the Sickest Their Coverage Hrant Jamgochian, like one in every seven Americans, has kidney disease, and he is CEO of Dialysis Patient Citizens, a Washington-based nonprofit, patient-led organization for people on dialysis or pre-dialysis and their families. In an opinion piece published in the Morning Consult, he wrote about recent discrimination against kidney disease patients as health insurance carriers look to exclude those with chronic illnesses like end-stage renal disease. "That the ACA could go off-limits to thousands of America's sickest and most vulnerable, precisely because they can't afford it without help, seems perverse on its face," he wrote. "But the law's overseer, the U.S. Centers for Medicare and Medicaid Services, appears rapidly headed in that direction. In August, it requested public comment on the issue, strongly suggesting that patients would be better off in Medicare or Medicaid." You can read the full article by clicking here. 5. First, Do No Harm Chronic Disease Coalition Executive Director Scott Bruun, who has had type 1 diabetes for 35 years, has had rheumatoid arthritis for nearly 20 years and is a cancer survivor, recently had an opinion piece published in The Lund Report. Bruun said:
The Affordable Care Act has stalwart defenders and detractors. As others have noted, the fact that those defenders and detractors have not materially changed their positions over the seven years since the act was passed means that the prospect of any significant fix – which would require bipartisan compromise – is remote. Nevertheless, citizens and taxpayers must demand that vulnerable chronic disease patients – the child on dialysis, the senior on a respirator – not become collateral damage.
In other words, as we debate and consider health care in America, remember the Hippocratic Oath: First, do no harm. Do no harm to the tens of millions of Americans with chronic diseases – our neighbors, our coworkers, our parents, our children and friends. Read the full article here.