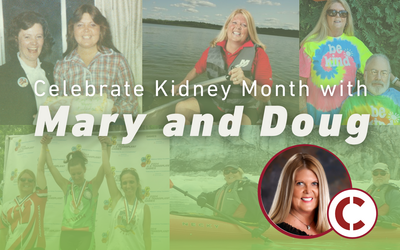 We sat down with CDC Ambassador, Mary Baliker and her brother, Doug Frankenstein to learn more about the importance of organ donation and donor protections.
Mary was diagnosed with a life threatening kidney condition at just nine-years-old when doctors told her parents that she had six months to live. After years of treatment and therapy, Doug donated his kidney to Mary, affording Mary the selfless gift of life.
After over four decades and multiple transplants, Mary continues to share her story today, with an emphasis on organ donation and living donor protections.
"I have faced many hurdles with kidney disease since I was nine-years-old. My motto is LIVE every moment, LAUGH every day, LOVE beyond words. Never give up!"
Since the 1980s, huge strides have been made on protecting the rights of living donors like Doug. The Chronic Disease Coalition has consistently advocated for policies that ensure job-protected leave, include anti-insurance discrimination provisions, and tax credits or reimbursements for living donors. While dozens of states have decent laws on the books, according to a 2021 report from the American Kidney Fund, there are still 11 states without protections. The same report only gives an "A" grade (full protections) to two states: Arkansas and Connecticut. There's clearly still work to be done across the country, but fortunately, this year we've seen bills move in New York, Georgia, Florida, West Virginia, Indiana, and California.
Learn more in this short slideshow and stand up for living donor protections in your state today!