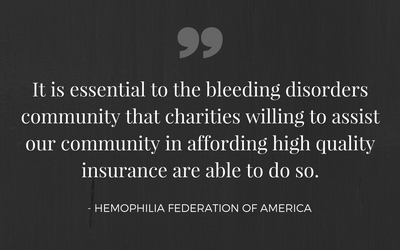 8.31.16

Health insurance companies trying to protect their wide profit margins are lobbying to cut off patients' access to premium assistance programs – starting with those who rely on financial aid from American Kidney Fund.

Without clear direction from the Centers for Medicare and Medicaid Services, this is a particularly concerning time – not only for kidney patients, but for anyone who requires health care because of a chronic disease.

While insurance carriers have started by targeting patients on kidney dialysis treatments, there's no telling what chronic diseases they'll target next: whether it's hemophilia and bleeding disorders, cancer or people suffering from chronic pain. It isn't just kidney patients who use third-party payment programs to ensure they can get the care they need.

Here are four reasons from the Hemophilia Federation of America that outline why we need to push our legislators to protect consumers and ensure charitable third-party payment programs can help those in need:

1. By not including nonprofits as entities that insurance companies must accept payments from, the federal government "has left insurance companies a wide open window to deny assistance for those that need it most."

2. Most patients who need premium assistance are those with chronic and expensive diseases. "By refusing to allow these payments, they are essentially able to weed patients that need the most help – those with expensive diseases who may be unable to afford their medication from their risk pool."

3. "High quality insurance with adequate networks and formularies is necessary to preserve access to hemophilia treatment centers and specialized hematologists, a wide variety of clotting factor, and the services necessary to properly manage a bleeding disorder. Without affordable access to treatment and care, managing a bleeding disorder becomes nearly impossible."

4. "The types of plans necessary to adequately cover the cost of a chronic condition often come with a high premium. It is essential to the bleeding disorders community that charities willing to assist our community in affording high quality insurance are able to do so."

For more information about these issues, please click here.