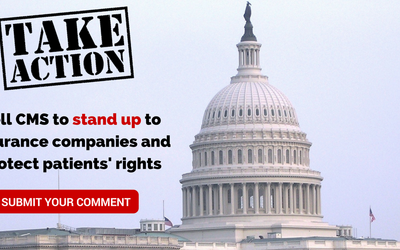 9.6.16

Your help is needed to help fight patient discrimination against those who rely on charitable assistance programs to cover the cost of their health insurance premiums and co-pays.

Insurance companies have launched a bigger campaign than ever before against charitable assistance programs. As a result, the Centers for Medicare & Medicaid Services (CMS) recently announced it is looking into their claims.

Similar to before the Affordable Care Act was put in place, insurance companies are trying to get rid of patients who could cost more because of pre-existing and chronic health conditions. But having a chronic condition should not preclude a patient from having a choice in which type of health insurance they choose.

Tell CMS that insurance companies' campaign against charitable premium assistance is a slippery slope, threatening not only vulnerable kidney disease patients but every person in the United States with a chronic health condition.

Please join us and fight patient discrimination today. You can get the link to submit comments to CMS and read more here: http://chronicdiseasecoalition.com/take-action-now-protect-charitable-premium-assistance/.

LaVarne Burton of the American Kidney Fund recently wrote in The Hill about her nonprofit organization's efforts to help patients with kidney disease.

"For years, health insurance companies systematically denied coverage to Americans with pre-existing medical conditions. As a result, those who needed coverage the most—people with severe and chronic conditions — were unable to buy insurance or were charged exorbitant premiums that were equivalent to a denial of insurance," she explained. "Today, insurers can no longer deny coverage to sick people and cannot place a cap on benefits paid to treat their illnesses. For many patients, this access to insurance and treatment is crucial to their wellbeing and, often, their lives."

"But now insurers are engaging in a different kind of effort to avoid covering people with expensive illnesses by refusing to accept premium payments from third-party charities that help low-income patients pay their premiums. In other words, charitable assistance is insurers' new 'pre-existing condition.'"

While the Patient Protection and Affordable Care Act of 2010 was "a historic step to guarantee people with chronic conditions the right to choose the coverage they need and get the help they can to pay for it," Burton said, we cannot let insurers now treat charitable premium assistance the way they once treated pre-existing conditions.

Whether kidney patients or others like them, Americans must have access to the care they need to live.