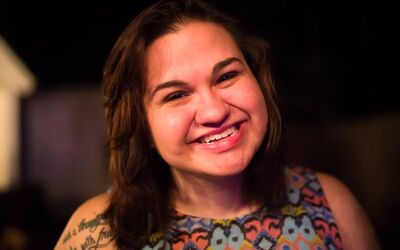 9.7.2017 "You've got to look at the positive." "It could be worse." "You can do it." These are phrases aspiring author and patient advocate Mindy Bartleson is sick of hearing. While providers, friends and family continually bombard her with these positive messages, Mindy recognized that battling a chronic disease is easier said than done. Born and raised in northeast Georgia, Mindy was diagnosed with Type 1 diabetes at the age of 7. Since then she has been diagnosed with attention deficit hyperactivity disorder (ADHD), anxiety, obsessive compulsive disorder (OCD), polycystic ovary syndrome (PCOS) and endometriosis. In her upcoming book about coming of age with chronic disease and mental health issues, Mindy fearlessly shares her experiences and the reality of living with multiple chronic conditions. While her book won't be released until winter or spring of 2018, Mindy sat down with the Chronic Disease Coalition to discuss writing, life and the message she wishes to impart upon the chronic disease community: You are not alone. What got you interested in writing?
I've always had an interest in writing ever since I was little, and I hoped to get published. I originally thought it would be in the fiction genre. After graduating college two years ago, I became more involved with the diabetes online community. That's when I realized I was seeing a lot of similar perspectives from parents and doctors talking about diabetes as if they were patients themselves. They tend to focus on positivity rather than talking about how difficult it can be to live with chronic conditions. It's possible to still have a positive attitude while working through the challenges.
What is the focus of your book?
The book is a coming-of-age story about life and battles with chronic illness and mental health. The main focus is on my thought process – looking back at what I was going through and how I was coping.
When did you start writing your book?
I started writing it two years ago at the age of 22. My goal was to get all of the content done before I turned 24. I'm now in the editing phase and working on refining the content so it flows well. I am looking into publishing options and decided to self-publish because my content is fairly specific. It has been a learning process.
What is your fundraising goal and when do you hope to publish?
My fundraising goal is about $4,000 to $5,000 and I'd like to be able to donate books to chronic disease, special needs and diabetes camps.
I launched a crowdfunder on Aug. 27 and I am hoping to print in March 2018, around the same time as my 18th dia-birthday. What goals do you have?
I really want to be able to reach teenagers and their parents who struggle with chronic illness so that maybe parents can understand them a bit better and know that it's not just teenage rebellion.
What are some challenges you have faced battling your chronic disease? For me, the big part about sharing your chronic disease story is that people leave out the negative aspects and give you generic positive messages like, "You can do it." That's where the message ends. It's not always easy. It's okay and important to recognize the challenges that come with a chronic disease. There are two specific moments that stand out and were especially challenging. Recently I was diagnosed with PCOS and endometriosis, which was difficult because now I have more chronic conditions to work through. I had a lot of resentment toward the medical community for not diagnosing me sooner because the focus was on my diabetes. My periods had been awful and my friends and family didn't understand or want to talk about such a taboo subject. Now, I try to share my story so more women feel comfortable coming forward and sharing their experiences with this condition as well. The second moment was when my dad passed away when I was 12 years old. I didn't know how to handle his death at the time and I didn't start to properly grieve until I was in college because I was ready to grieve and had access to services that might support me through the process – my college's counseling center and grant to cover the costs. I was frustrated and I remember going to a doctor appointment and learning that my A1C levels – average blood glucose level – went up. The doctor asked me why they had risen and didn't understand how my father's death might have affected my diabetes at the time and several years later. My doctor wasn't able to connect the experiences in my life with the changes in my diabetes management. Have you ever experienced any type of patient discrimination?
Yes, but I notice most of it happening in the world around me. One of my favorite catch phrases is "check your privilege." For example, I feel that I had privilege because I was able to start on a firm foundation with educated parents, and I am a straight, white, cisgender woman. When my dad passed away, my family's financial status changed. Because I also lived in a small town, we always had to travel nearly two hours from our small town into Atlanta to visit a doctor. It wasn't easy to receive the care I needed.
It is the same for many other people, I have seen culture, race and location prevent people from getting the proper care needed. Where I live in Georgia, people might not know about health care available to them or their doctor doesn't speak their language and important information can get lost in translation. What would you tell someone currently battling diabetes or any type of chronic disease?
Find someone who understands what you're going through. That doesn't mean you have to get involved with support groups or online, but just find one person you can talk to. It is a huge part of what helps me process and cope with my conditions. It's also alright to have a bad day and hate the world occasionally. If you don't admit this aloud to the world around you, at least admit it to yourself.
Mindy reminds us all that sharing our stories can have a profound impact. At the Chronic Disease Coalition, we believe patients need a platform to share their story. Join us to share your story. If you'd like to learn more about Mindy and her story, click here. Mindy is self-publishing an honest book about growing up with chronic illness and mental health. She wrote the content before rose colored glasses impacted her experiences too much. To help this book get published, you can visit the crowdfunding page to learn more, back her project, and help spread the word. You can also follow Mindy on Instagram, Twitter, Facebook, and her blog "There's More to the Story".