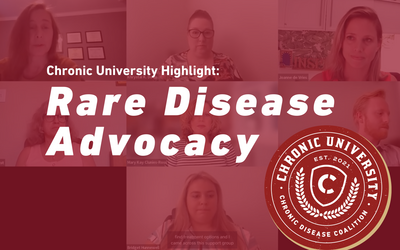 Chronic disease impacts nearly half, or 133 million, Americans—with only 1 in 10 having a rare disease. The National Institute of Health recognizes 7,000 rare diseases. Some of those affect thousands of people; some diseases only affect a few hundred.
At the August Chronic University, our panelists shared their stories. People with rare diseases face some unique challenges, starting with the burden of diagnosis. But while diagnosis almost always comes with a sense of relief, it is not a feeling that can be enjoyed very long. Treatments can be experimental, uncertain or just plain non-existent – by some estimates, more than 90% of rare diseases lack an FDA-approved treatment They can also be extraordinarily expensive or come with uncertain side effects. The whole journey can be isolating, and even more so if you "look fine."
If you missed Chronic University, you can watch the recording here.
Here are our panelists and a few notes about their stories and perspectives:
Michele Rayes, Vice Chair HypoPARAthyroidism Association: As it does for about 70% of patients, Michele's hypoparathyroidism resulted from neck surgery performed several decades ago. In that time, she has worked to improve the lives of people with her condition through education, support, research and advocacy.
Khrystal Davis, Founder, Texas Rare Alliance: She joined the rare disease community when her newborn son was diagnosed with spinal muscular atrophy. He was expected to live 3 months. At 8 weeks, he was enrolled in a clinical trial and just celebrated his 11th birthday. Through it all, she learned about the policy and regulatory barriers to patients getting access to life-saving treatment, and is now busy knocking down those barriers.
Bridget Edwards, CDC Ambassador + Patient Advocate: At just a day old, Bridget was diagnosed with a rare bleeding disorder, Afibrinogenemia. She actively supports people and organizations who work to raise awareness, but also to demonstrate daily how people are more than their diagnosis.
Christina Thielst, CDC Ambassador + Patient Advocate: Christina is a former hospital administrator and healthcare consultant diagnosed with Guillain-Barre Syndrome and Chronic Inflammatory Demyelinating Polyradiculoneuropathy (CIDP). She leverages her knowledge of the healthcare ecosystem with her rare disease experience to raise awareness and advocate. She created a diagnostic guide to enhance awareness among physicians and other providers to improve the timeliness of diagnosis.
Joanne de Vries, MPH, VP, HAE and PDT Patient Services, Takeda: An expert in the broad experiences of rare disease patients, Joanne provided insight into the universal challenges of developing treatments, ensuring that patients have access to treatments, and the need for emotional and practical support for individual patients.
Calls to Action
We appreciate the time given to us by our patient-advocate panelists. If you, too, were moved and inspired by their stories, we invite you to take action:
HypoPARAthyroidism Association: People can support new treatments for this life-limiting disease by going to hypopara.org and learning more, as well as sending letters via our VoterVoice campaign found on our advocacy page.
Texas Rare Alliance: is focused on improving the health care system's ability to quickly and effectively diagnose rare disease. Faster diagnoses saves lives, results in better health outcomes and decreases the cost of care. Many rare diseases have strong genetic components, and whole-genome sequencing is an essential tool for critically ill newborns and children in Texas.
The Chronic Disease Coalition's policy platform may be broad, but several of our priorities are critical for rare disease patients. You can also learn more about policy issues that affect rare and common chronic disease patients here:
Resources
All our panelists spoke to the importance of finding disease-specific support groups. These are extremely valuable sources of both emotional and practical support.
National Organization for Rare Disorders: NORD is a patient advocacy organization dedicated to individuals with rare diseases and the organizations that serve them. NORD, along with its more than 300 patient organization members, is committed to the identification, treatment, and cure of rare disorders through programs of education, advocacy, research, and patient services.