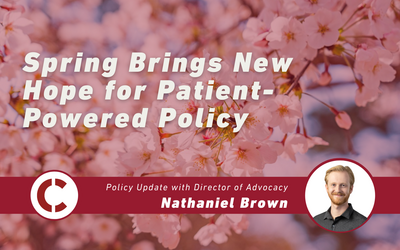 By Nathaniel Brown, director of advocacy
The flowers are blooming, the rain is pouring, and air feels fresh again. On top of beautiful weather, several states across the country are seeing positive progress on healthcare policy that impacts chronic disease patients.
The Chronic Disease Coalition has been busy in several of these states, working with our partners to pass legislation on step therapy reforms, copay accumulator bans, Medigap expansions, and more.
In California, one of our patient advocates – a kidney donor – submitted testimony on a bill to reimburse living organ donors for expenses not covered by insurance. This bill would have set a national precedent and we were thrilled to play a small part in the patient-led momentum for this legislation, although it won't move forward this year. We're also seeing progress on a bill that would extend step therapy reforms to more Californians.
In Florida, another one of our patient advocates joined the Chronic Disease Coalition and our partners for a meeting with legislative staff regarding the importance of copay accumulator bans. The insurance-heavy Florida legislature has balked at this concept for years, but with a broad spectrum of patients involved, we can better inform the process next year.
Copay accumulator legislation in Delaware, New York and Minnesota is still under consideration, too.
On the Medigap front, the Chronic Disease Coalition is working to bring partners from across the country together to strategize on how best to move the needle on this issue. We had our second meeting of the National Medigap Task Force this month, and while we're so grateful for advocacy partners with serious policy chops, we're even more excited to have our patient advocates at this table.
Maryland and Vermont recently passed Medigap expansion bills, and Medigap expansion in Rhode Island is still a possibility this year. Louisiana's legislature is also working on a bill to expand Medigap coverage (as well as one that would expand protections for living organ donors in the Pelican State!).
Finally, in Colorado, we're proud to be part of a broad coalition of patient organizations that is leading the charge on a bill that enacts several exciting reforms to the healthcare system. Among the policy proposals in this bill are new step therapy requirements, pharmacy benefit manager reforms, and nonmedical switching prohibitions.
As we work to elevate the patient perspective in policymaking discussions around the US, we want to hear from you. Take a minute to fill out our story bank form and we'll share your experience throughout our advocacy work to better educate decisionmakers.
Let's work together to keep the momentum going on these patient-powered advocacy efforts. Reach out any time if you'd like to be more involved.