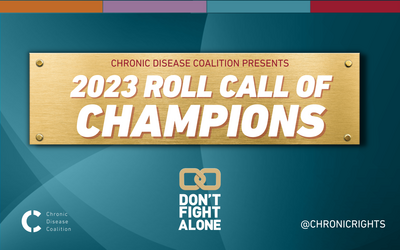 In a country where chronic diseases impact millions of individuals and families, one cannot overstate the importance of advocating for their rights and well-being.
Building upon the progress made in previous years, lawmakers across the country continue to champion our priority issues. Their commitment and tireless efforts to bring about positive change is inspiring, and we want to take a moment to show our gratitude and shine a light on their progress.
As part of Chronic Disease Month every July, the Chronic Disease Coalition recognizes state and federal legislative champions. Republicans and Democrats alike sponsored or co-sponsored legislation to help patients get needed health care services. We are grateful for their leadership, their hard work, and their care for our families.
We know this is just the short-list. Our sincere gratitude goes to all legislators who sponsored or supported patient-centered legislation in their states so far this year.
Addressing the High Cost of Care through Copay Accumulator Bans and Pharmacy Benefit Management Reform
Ensuring access to affordable healthcare is a crucial concern for individuals with chronic conditions. In 2023, we have seen a growing recognition of the urgent need to address this issue. Various bills have been proposed to reduce costs, making it more accessible for those living with chronic diseases.
Banning copay accumulator programs (where insurance companies pocket third-party assistance and don't count it toward a patient's deductible) and shining a light on PBM practices (the businesses negotiating drug prices) are critically important. Thank you to these legislators for leading the fight against the high cost of care:
California Asm. Akilah Weber
Florida Sen. Tom Wright
Massachusetts Sen. Brendan Crighton
Missouri Sen. Dale Wright
North Dakota Rep. Karen Karls
New Mexico Sen. Elizabeth Stefanics
Oregon Sen. Sara Gelser Blouin
South Carolina Rep. Patricia Henegan
Texas Rep. Four Price
Utah Sen. Curt Bramble
Oregon Rep. Rob Nosse
Indiana Sen. Ed Charbonneau
Massachusetts Rep. Edward Coppinger
Virginia Rep. Israel O'Quinn
Washington Sen. Ann Rivers
Oklahoma Rep. Kevin Wallace
Oregon Rep. Nancy Nathanson
California Sen. Steven Bradford
U.S. Sen. Tim Kaine
U.S. Sen Roger Marshall
U.S. Rep. Mariannette Miller-Meeks
U.S. Rep. Diana DeGette
Protecting Organ Donors from Discrimination
Every year, a significant number of generous Americans selflessly donate their kidneys and other organs, becoming living donors to save the lives of their loved ones, acquaintances, and even strangers. However, the demand for organ transplants remains high, with another person being added to the transplant waitlist every 10 minutes. This initiates a prolonged waiting game not only for the patients but also for their families and supporters. Unfortunately, discriminatory insurance policies often deter healthy individuals from making life-saving donations out of fear of losing their own insurance coverage. Thankfully, there are legislators who are taking a stand to advocate for the rights of living organ donors.
Indiana Sen. Jean Breaux
Massachusetts Rep. Josh Cutler
North Carolina Rep. Phil Shepard
Nevada Sen. Julie Pazina
South Carolina Rep. Joseph Jefferson
Wyoming Rep. Kevin O'Hearn
Utah Rep. Mark Wheatley
Expanding Coverage: Medigap, Nutrition Assistance, and Mental Health Care
Medigap plans, also known as Medicare supplemental insurance policies, play a crucial role in bridging the gaps left by traditional Medicare by covering medication and treatment expenses that are not reimbursed. For individuals and families grappling with chronic diseases, this coverage is truly lifesaving. But Medigap isn't the only service that needs to be expanded; we'll also see better health outcomes with expanded nutrition assistance programs and improved access to mental health providers. Thank you to these legislators that have taken a stand to expand coverage.
Rhode Island Sen. Valarie Lawson
Hawaii Sen. Jarrett Keohokalole
Iowa Rep. Gary Mohr
Indiana Sen. Dan Dernulc
Kentucky Rep. Kimberly Moser
Minnesota Sen. Liz Boldon
Nebraska Sen. Mike Jacobson
Nevada Asm. Sandra Jauregui
Texas Rep. Toni Rose
Virginia Rep. Tom Kilgore
Colorado Rep. Dafna Michaelson Jenet

Protecting the Patient-Provider Relationship
Insurance companies frequently prioritize cost-cutting measures by mandating the utilization of cheaper treatments that may not align with a patient's prescribed medical routine. This practice has significant and potentially hazardous implications. Recognizing the risks associated with insurance companies dictating treatment decisions over medical professionals, the Chronic Disease Coalition actively these policies – like harmful step therapy and prior authorization requirements. These legislators also advocate for the importance of doctor-prescribed treatments, prioritizing patient well-being over cost-saving measures imposed by insurance companies.
Washington Rep. Tara Simmons
Florida Rep. Karen Gonzalez Pittman
Georgia Rep. Todd Jones
Maryland Sen. Clarence Lam
New York Sen. Neil Breslin
Illinois Sen. Julie Morrison
New Mexico Rep. Dayan Hochman-Vigil
Texas Rep. Tom Oliverson
U.S. Rep. Lori Chavez-DeRemer
U.S. Rep. Lucy McBath
U.S. Sen. Lisa Murkowski
U.S. Sen. Maggie Hassan
As we embark on the second half of 2023, it is inspiring to witness lawmakers across the country continuing to advocate for chronic rights. By working towards expanded healthcare access, combating discrimination, prioritizing mental health, fostering research and innovation, and amplifying patient voices, these legislators are making a tangible impact on the lives of millions. Their unwavering dedication to improving the lives of individuals with chronic diseases deserves our recognition and support.