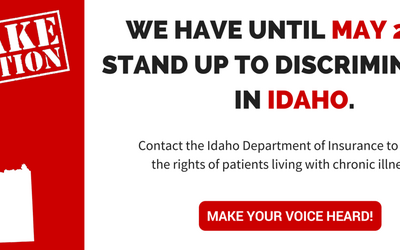 5.17.16
Idaho residents living with chronic illnesses including diabetes, MS, kidney disease, bleeding disorders and autoimmune diseases face a major threat to their future ability to pay for their health care.
The Idaho Department of Insurance last week issued Draft Bulletin 16-04, which would allow insurance companies to discriminate against patients with chronic conditions by rejecting premium and co-pay assistance from legitimate charitable organizations currently providing financial assistance to those in need.
Whether you're a patient with one of these chronic conditions, an advocate for consumer rights or someone who simply wants to stand up to discrimination against vulnerable populations, please join us in sending letters to the Idaho Department of Insurance asking them to withdraw Draft Bulletin 16-04.