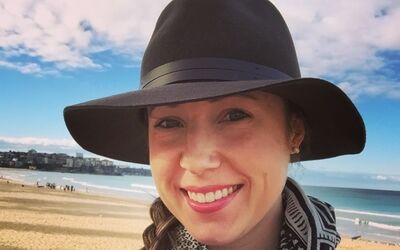 5.11.16

Katie Wilkes of Portland was only 23 years old and a week into a new job at Oregon Health and Science University (OHSU) when she was diagnosed with melanoma, a type of skin cancer. Having cancer is a hard thing for one to accept at any age, and as a woman in her 20s, Wilkes was unsure of how to handle it, or even how to talk about it.

As a result, she initially sought to hide her illness from those close to her, choosing not to talk to her friends, family and co-workers about what she was going through.

"I was very quiet and withdrawn about it," she told the Chronic Disease Coalition during an interview in May, which is Skin Cancer Awareness Month.

For a year she felt like she was alone with her disease. That all changed, however, when she became aware of the online patient community. Through web resources from groups like AIM at Melanoma and the Melanoma Research Foundation, she was able to speak with other people going through the same experience. Connecting with others who had that firsthand knowledge of the disease proved invaluable.

"People in real life don't always get it," she said. "Some will be supportive; others won't know what to say."

Other patients she met online, however, allowed her to open up about her condition in a supportive and understanding environment. It was that initial sense of community that led Wilkes to become interested in patient advocacy.

She wanted to find a way to reach those who might be going through the same feelings of isolation she initially felt. She started her own blog, Pretty in Pale, to chronicle her life as a skin cancer survivor. Since 2012, she has kept a running log of everything skin cancer related, from reviews of sunscreen products to pieces debunking the "base tan myth."

Pretty in Pale ultimately became just one aspect of her patient advocacy efforts. She has been an active part of Oregon's melanoma community, organizing walks and other events to raise money and awareness about skin cancer. In 2013 she even testified before the Oregon Legislature on a bill limiting the use of tanning beds by minors. Currently, she is leading a project at OHSU funded by the Patient-Centered Outcomes Research Institute, where patients propose research topics and areas of study for medical professionals to pursue.

What unites all these varied advocacy efforts is a focus on the interests and perspective of the patient. For Wilkes, that needs to be an essential part of any health care effort. The activism she has pursued has sought to tap that rich knowledge for the benefit of all patients.

"People who have lived with the disease bring this rich knowledge to the things they do," Wilkes said.