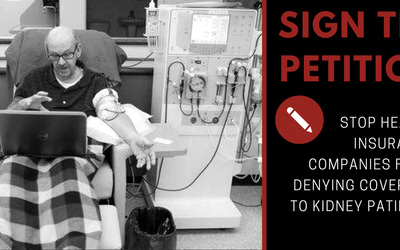 1.4.17

Jim Myers, a Crown Point, Indiana, man with end-stage renal disease who is on dialysis and awaiting a kidney transplant, has created a petition calling on U.S. lawmakers to halt a last-minute effort of the Centers for Medicare & Medicaid Services that poses grave implications for people with kidney disease.

In his Change.Org petition, Myers asks Rep. Paul Ryan, Rep. Nancy Pelosi, Sen. Mitch McConnell and Sen. Harry Reid to take note of the incredible harm kidney patients will face if a new Centers Medicare & Medicaid Services rule becomes final.

The rule is set to take effect on Jan. 13 if we don't take action to stop it.

The Centers for Medicare & Medicaid Services (CMS) on Dec. 13, 2016, issued its interim final rule (IFR) that "allows insurers to deny health care coverage to end-stage renal disease (ESRD) patients on dialysis who accept assistance from charities to pay their health insurance premiums.

"CMS stated that their purpose was intended to create a more transparent process to insure that dialysis patients had the information they needed to understand their coverage options, which can include Medicare, Medicaid, COBRA, employer group health plans (EHGP), and qualified health plans (QHPs) bought in the insurance Marketplace (Exchange)," Myers wrote. "Unfortunately, the IFR is a long way from fulfilling its intent."

A major problem is that "CMS has given insurers a legal option of denying coverage," he said. "Although many patients with other specific medical conditions receive charitable assistance to pay their health insurance premiums, CMS gives insurers the right to drop only ESRD patients who rely on charitable assistance. It is time for Congress to act and to direct CMS to withdraw this Rule."

The Chronic Disease Coalition agrees. We have taken a position against the CMS rule, not only on behalf of kidney patients but on behalf of anyone living with or caring for someone with a chronic disease. You can read our statement by clicking here.

Please join us and take action now! Submit your own comment to CMS and make sure to sign Jim Myers' petition at Change.org.