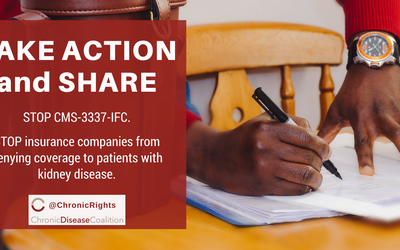 1.5.17

The Chronic Disease Coalition today submitted official comments on an administrative rule released by the Obama Administration that poses major risks for patients with kidney disease as well as anyone living with a chronic disease.

The Interim Final Rule (CMS-3337-IFC) gives insurance companies new power to deny coverage to patients with kidney disease, effectively rolling back protections previously put in place to stop insurers denying coverage to people with chronic or pre-existing conditions.

This is discrimination against people with kidney disease. And, if the insurance companies are successful, there's no telling which patients and diseases they will target next.

Your help is needed to overturn CMS-3337-IFC. Please click here to submit comments.

Tell the Centers for Medicare & Medicaid Services: Patients have a right to choose a health plan that's best for themselves and their families. It is not a choice that should be dictated by the profit motives of insurance companies. We must protect access to health care for people with kidney disease.

Read the Chronic Disease Coalition's comments by clicking here.

And please make sure to file your own comment at https://www.regulations.gov/comment?D=CMS-2016-0185-0002.