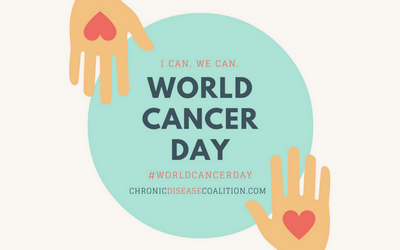 2.2.17

February 4 may seem to be another day like any. But for millions of people across the globe, Feb. 4 is known as World Cancer Day – a day that unites the world in the fight against cancer.

Established in 2000 at the World Summit Against Cancer for the New Millennium, the day brings together millions of community members, patients, cancer survivors, health organizations and groups in the spirit of advocacy.

"Since cancer knows no boundaries, and individual countries cannot address the challenges of cancer in isolation, a new cooperative approach to research, advocacy, prevention and treatment must be established," the founding announcement states.

Each year, World Cancer Day seeks "to get as many people as possible around the globe to talk about cancer." As part of this effort, the day offers a vital opportunity to raise cancer awareness both with the general public and worldwide media outlets.

Through this increased awareness, ongoing discussion and community education, World Cancer Day urges the global community to take action and work toward saving millions of people from preventable deaths from cancer. An estimated 8.2 million people die from cancer each year, and approximately 4 million people die prematurely – defined as being between 30 and 69 years old.

In the United States, 1.7 million new cases of cancer were estimated to occur in 2016, with the most common including breast cancer, lung and bronchus cancer, prostate cancer, colon and rectum cancer, leukemia, melanoma of the skin, non-Hodgkin lymphoma and kidney and renal pelvis cancer, among others, according to the National Cancer Institute.

Organized each year by the Union for International Cancer Control and numerous other global cancer research and advocacy groups, World Cancer Day continues to build momentum year after year. Aside from building awareness and momentum in the fight against cancer, World Cancer Day also offers an important lesson about advocacy.

At the core of every advocacy effort are people that have united for a common cause to spread awareness. The decision to get involved and take a stand for something you believe in starts solely with you.

Wherever life and your passions take you, get involved. And if you're looking for an important cause that advocates for people living with chronic and life-threatening conditions – from cancer and kidney disease to arthritis and multiple sclerosis – join the Chronic Disease Coalition. Together we are strong.