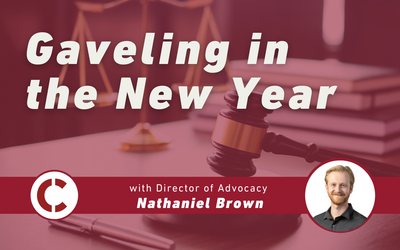 It's the most wonderful time of the year! No, not the holidays – the commencement of legislative sessions across the nation. The opportunity to engage in the democratic process, however imperfect it may be, is cause for celebration no matter what state you live in.
From Olympia and Sacramento to Denver and Boston, from Albany and Richmond to Tallahassee and Springfield, dedicated public servants are gathering in statehouses to discuss ways to improve the lives of their constituents.
Before we dig into how you can begin advocating this month, take a look at the National Conference of State Legislatures' 2022 Session Calendar to learn when your policymakers are meeting this year.

As advocates for the chronic disease community, we are especially excited about proposals that expand patients' access to affordable health care – and there are many. As bills are filed and public hearings held, our team is committed to identifying as many opportunities to engage in the process as possible.
We have spent the fall months learning from our members, Ambassadors, board, and partners about their priorities for this new year. From those conversations, a comprehensive 2022 Policy Platform was officially adopted in November. If you missed our recent Chronic University, you can find it here to learn more about the platform and where those policies will be debated this year.
From step therapy reform to Medigap expansion, the Coalition is focused on a variety of crucial policy issues. Take a moment to read our 2022 policy issues and sign petitions for issues you are most passionate about.

We're thrilled to see legislation introduced that addresses step therapy requirements, bills that establish chronic kidney and rare disease task forces, and proposals that expand Medigap and telehealth access. If you are involved in policy discussions in your state that you think the Coalition should support, please reach out.
Throughout the past few months, we have also been hard at work creating new tools for our advocates to use in their states, from downloadable policy one-pagers on our top issues, to issue-specific petitions that can be shared with anyone.
Our team is also here to help advocates testify – letting them know when opportunities arise to take action, helping them to practice and prepare, and connecting them with legislators in their state.
At the Chronic Disease Coalition, we know that progress happens incrementally. Policy wins may seem easy to measure – but in reality – effective legislation often takes years to develop. We can't wait to make progress this year on our priorities and hope you'll join us in the process.