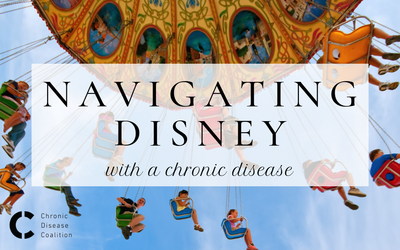 7.23.19 Whether it's a trip across the globe or even to your family's house in the next state over, it's no secret that we all enjoy a vacation. For patients and families affected by chronic disease, vacationing can be stressful. However, there's a vacation destination that is not only fun, but also accommodating, and it just so happens to be the happiest place on earth. Disneyland and Walt Disney World are known for their iconic castles and unforgettable attractions. With the recent opening of Galaxy's Edge at Disneyland which is the new, long-awaited Star Wars land, more people are planning a trip to Disney. To ensure that everyone has an enjoyable time, Disney works diligently to cater to guests with chronic health conditions.
Disability Access Service card: Disability Access Service (DAS) cards are provided to patients who cannot wait in lines for long periods of time. Similar to Disney's Fastpass service, DAS allows a user to skip the lines by registering to ride the attraction at a later time in the day.
Electric conveyance vehicles and wheelchairs: The average person will walk 10-12 miles each day while in the park. This distance can be especially draining for patients and painful for people with joint pain. Disney provides guests with access to a wheelchair or electric conveyance vehicle, so they can more easily roam through the park.
First Aid: Disney offers First Aid stations, staffed by registered nurses, at all parks. These stations are supplied with over-the-counter pain medications and other necessities, as well as disposals for hypodermic needles and a fridge to store medication. Diabetes patients may find these stations as helpful for disposing needles or refrigerating their insulin.
Mobile Apps for Phones: Patients may benefit from using Disney's mobile app, which allows you to view a full map of the parks, wait times for attractions, DAS reservations, restaurants, restrooms and more. This can be helpful for patients who don't want to walk far to find an attraction, need to access the nearest restroom or identify a snack to manage their blood sugar.
Account for peak seasons, crowds and weather when planning your trip: Disney is not the same year-round. At both parks, summers can be extremely hot, and Walt Disney World experiences a lot of rain during the hurricane season. In addition to weather conditions, it's important to consider crowds, as a trip will be much different with 45,000 people in the park rather than 100,000. During the summer and major holidays, the parks are busiest. Planning to go to the parks earlier in the morning can also help avoid larger crowds and attractions usually have lower wait times.
Avoid rides that may aggravate your symptoms: It's no secret that Disney attractions are sophisticated and constructed by industry-leading engineers. However, for those with chronic disease, overly bumpy and jolty rides may cause pain, fatigue or impact your medical device. It helps to know your limits, and plan the attractions you want to visit in advance. YouTube is a great resource for watching videos of attractions and helping determine if it may be a good fit. We encourage patients to look at the Disney website and park reviews to determine if you would be comfortable on a particular ride. Overall, knowing your limits and planning in advance can make a Disney vacation significantly more enjoyable.
It's a known fact that Disneyland and Walt Disney World are amongst some of the top tourist destinations in the United States. With all the amenities that Disney provides, and their willingness to make a vacation as enjoyable as possible, it's a great option for those who need time away and want an extra dose of magic and fun.