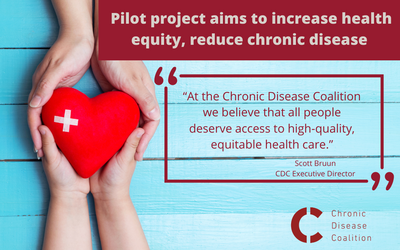 Equity. The usage of this term has increased dramatically over the last few months, evoking emotions and sparking conversation in communities across the United States. As social, civic, business and health care organizations listen and participate in these conversations, it's clear meaningful action is overdue.

The Centers for Disease Control and Prevention (CDC) is stepping up to lead and invest in health equity through the launch of a recent pilot project. The project will examine as many as 50 high-burden communities, analyzing how social determinants of health are contributing to or hindering health equity in those places.

"Chronic diseases touch every American, in one way or another," said Karen Hacker, M.D., M.P.H., director of CDC's National Center for Chronic Disease Prevention and Health Promotion in a release issued by the agency last week. "This important pilot project will help us better understand strategies to advance health equity and reduce the immense burden of chronic disease."

Understanding social determinants of health, including built environment, community-clinical linkages, food insecurity, social connectedness and tobacco-free policy in these communities will be focal points of the project. Too often, an individual's income level, racial and ethnic makeup, or geographic location are contributing factors to an increased risk or prevalence of chronic disease. Not only does this greatly impact patients and their families in these areas, it also increases overall health care costs.

"At the Chronic Disease Coalition we believe that all people deserve access to high-quality, equitable health care," said Chronic Disease Coalition Executive Director, Scott Bruun. "Unfortunately, institutional and social bias are visibly present in our health care system – you see it clearly in patient outcomes and disease prevalence data. We're proud that projects like this are cropping up across the country to improve equity in our health care system."

Join the Chronic Disease Coalition to be a meaningful participant in this process.