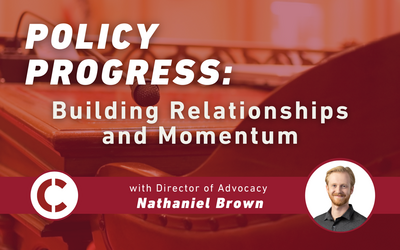 It's been an exciting first month of the year. While the first couple of weeks are usually busy with bills being introduced and finding their first committees, health care is clearly a high priority across the country.
We've been busy setting up virtual meetings with legislators. Last December, we sent the CDC's policy agenda to key legislators across the country, and they responded with requests to meet. We are working with our patient ambassador group to try to bring them into the meetings (as appropriate by state). It's exciting to have the elected officials prioritize these meetings, especially when legislative sessions are already underway, and their calendars are booked out for weeks at a time! We'll continue to pursue these meetings—they are great opportunities for legislators to hear directly from patients. If you'd like to meet with a legislator in your state but aren't sure where to start, reach out to us.
Legislative sessions are moving fast, with some strong progress in key areas:
Living Donor Protection Acts
LDPAs are crucial to supporting kidney donors (story.) There are many different components, but can include job and insurance protections, tax credits for individuals and businesses, and more.
Virginia has a bill that is out of committee and will now head to the Senate floor and a bill in Georgia has passed the Senate unanimously.
The Georgia bill is being championed by Sen. John Albers, who donated a kidney to his son in 2021, demonstrating again the power of an inspiring story and a legislative champion. We're grateful to the Senator for his work on the bill and for his public support for organ donation in general.
LDPA bills are also expected to move in California, Ohio, Nebraska, Indiana, Florida, Massachusetts, North Carolina, New York, and West Virginia.
Chronic Disease Task Forces
There are two main types, and the CDC supports states having both: Chronic Kidney Disease Task Forces and Rare Disease Advisory Councils.
Our number one priority as an organization is to ensure patients' voices are heard whenever patient issues are being discussed. Because legislators and state agencies aren't experts on every single issue, they often rely on task forces of experts or affected citizens. States expected to make progress on this issue include Massachusetts, Illinois, Utah, Connecticut, Colorado and Louisiana. Read our one pager to learn more and sign a petition today!
Medigap
Medigap plans (or Medicare supplemental insurance policies) cover some of the medication and treatment costs that traditional Medicare does not pay. This coverage is often essential to chronic disease patients, because it can cover things like copayments, coinsurance, and deductibles that help patients afford life-saving treatments.
We're glad to see progress in Nebraska and Virginia on this issue.
See our one-pager here and sign the petition.
Copay Accumulators
Insurance companies will take all the revenue from copay assistance, but then require patients to personally pay their deductibles and out-of-pocket maximums, eliminating the role of third-party charitable assistance. This forces patients to pay twice.
Fortunately, bills are moving forward in Pennsylvania, Washington, Mississippi, Maine, Utah and Ohio.
See our one-pager here and sign the petition here.
While legislatures across the country transition from simply introducing and evaluating bills, committees will now shift to taking action. The CDC is closely monitoring bills in several states and in Washington, D.C. and will keep you updates as opportunities arise to make your voice heard.