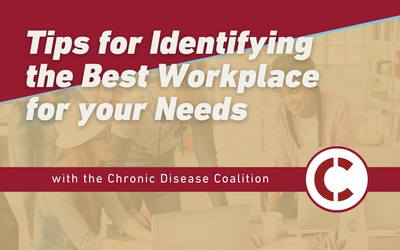 During our June Chronic University, Navigating Workplace Discrimination, we heard insights from patient, HR and legal leaders detailing best practices for finding and maintaining a job while living with a chronic illness.
While many employees are currently seeking new job opportunities, it's important to know how to identify employers that will respond positively to your chronic illness needs. If you're looking for a job and are concerned how a potential new employer might respond to your medical condition, here are a few ideas from our panelists about what to look for:
Consider the physical environment. If physical accessibility is key in navigating your illness, ensure you consider the size of the physical location, the proximity of key locations to each other, the topography, even the furniture. These are all aspects of the job that will impact you and will be hard/impossible for the employer to change.


Look for devoted resources. While a small or medium-sized company may not be able to do devote specific resources to accessibility, larger employers might have a dedicated staff person or team devoted to accommodations. They are experts in the field and bring a wealth of creative ideas to ensure everyone can contribute their best work.


Evaluate the organization's values. Does the organization express values of empathy and inclusion? Are there tangible examples that back up those commitments? Take this research a step farther by evaluating how others have feel about the organization with anonymous job review websites like Indeed and Glassdoor. While comments may skew negative as the platforms can attract the angry and disappointed, it can still provide insight to the overall culture.


Come with your own questions. While it's reasonable to not want to broadcast a medical condition, it's also possible to ask questions that will indicate how the employer handles the issue. Possible questions include: How important is inclusivity to you? Could you give some examples of what an inclusive culture looks like for you? Considering all we've been through during the pandemic, how did you adapt to the needs of your employees to take care of their health, and the health of their families?


Be holistic in your evaluation. While there is certainly the economic need to take the job that offers the most money, it can be beneficial to look at the opportunity as a whole. A lower-paying employer may have a more comfortable physical environment, more flexible schedules, or other characteristics that will make it easier for you to do your best work.